We research, test, and recommend the best products for our respected readers. This post may contain some affiliate links, and we may receive a small commission if you purchase through these links.
If you are a skin enthusiast, you have most definitely heard about high frequency and a high frequency machine. However, we can bet that you don't know enough about this modern technology. If you are interested to know more about it and its various uses and benefits, then you are in the right place. Below, we have talked in detail about high frequency just to let you understand it perfectly.
High Frequency Skin Care
Even though it's considered as a modern technology, the history of high frequency goes a long way. In the late 1800s, renowned scientist Nikola Tesla developed a high frequency to use it for medical purposes and treat patients effectively. With time and further development, this technology is now considered as a vital component in many skin and hair care treatments, and used widely in prestigious salons and spas all over the world.
High frequency technique uses gentle oscillating oxygenating power of electrical currents to improve the texture and condition of your skin through a high frequency glass electrode. This electrode is filled with either neon or argon gas, or both of them, which act as a medium to pass the mild electrical current from the tool to your skin. This oxygented current promotes thermal tissue warming and creates ananti-bacterial action to improve your skin greatly. Depending on the type of gas the glass electrode is filled with, the electric current would produce red [for neon gas] or blue [for argon gas] lights.
Also read: Argon Vs Neon High Frequency
High frequency can treat a number of skin conditions and provide you skin that you have always dreamt of. From acne management to minimizing enlarged pores getting rid of different signs of aging, and promoting healthier glow, high frequency technique can take care of a number of skin concerns so that you look as flawless and gorgeous as ever.
When it comes to skincare, high frequency is considered a "life-saver" technology for many. This modern technique passes mild electrical current and increases blood circulation into the deep layer of your skin to treat it like none other. It fights acne, discoloration, different signs of aging, puffy eyes and many other skin concerns precisely to make sure that you have a healthy, radiant skin than ever before.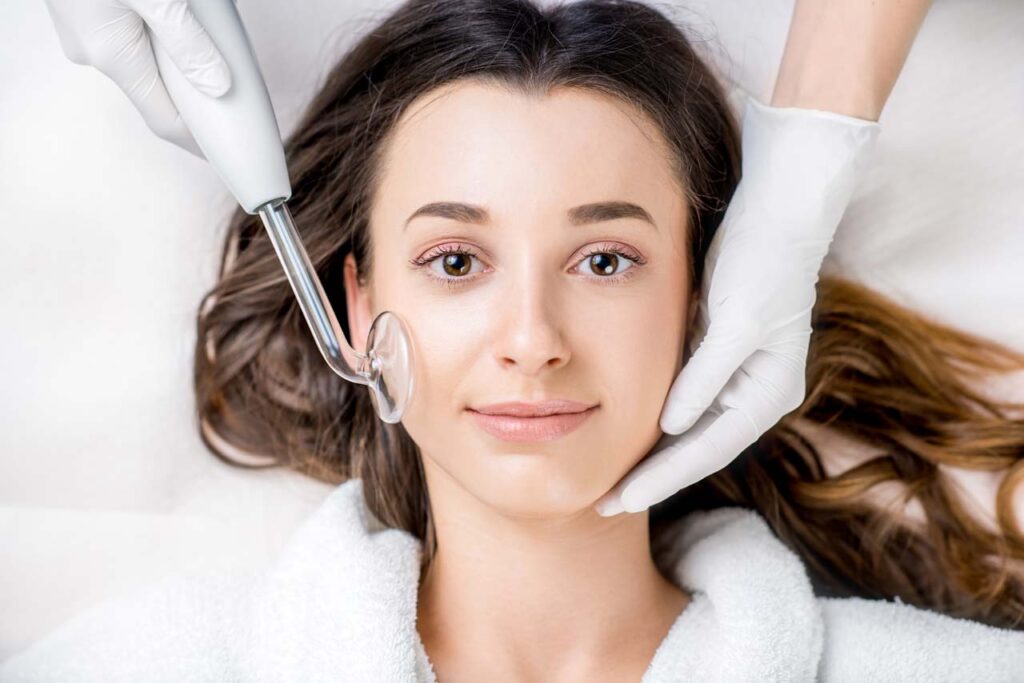 High Frequency Machine
When we are talking about a high frequency machine, we are actually talking about a high frequency facial wand. This amazing wand is attached to an ergonomically designed handle to make sure that you can use it easily on your face without facing any problems. It also comes with different shaped glass electrodes [round, oval] to use effortlessly on your skin. Regardless of the shape, the glass electrode of a high frequency facial wand is filled with gas that helps to transfer the electric current to pass to your skin and scalp, and enhance their look and health. 
Well, the science behind this technique for your skin is simple yet effective. The high frequency machine uses a gas-filled glass electrode [Argon gas or Neon gas] to transfer the electrical current to your face. When you use it on the skin, this tool flashes either a red/orange or violet/blue light to treat it from the inside. The color of the light depends on the type of skin concerns you want to take care of. For instance, if you want to treat acne-prone skin, use the violet/blue light, and for aging concerns, red/orange light is effective.
These lights subtly warm the tissues under your skin and create a unique anti-bacterial action to stimulate blood circulation and cell renewal. When this happens, your face is regenerated and can fight its problems effectively to give you a fresher, smoother skin. 
Another amazing thing about a high frequency machine is that it can do wonders to both your skin and hair quality and make them as gorgeous and flawless as ever. The benefits of this wand are endless. Let's discuss these advantages in detail for better understanding.
Benefits Of Using High Frequency Machine 
The benefits of a high frequency facial for your skin are endless. Below, we have discussed them in detail so that you know them even better and try them immediately.
One of the most loved benefits of a high frequency facial wand is that it can fight acne like none other. It creates an anti-bacterial action deep inside your face and kills acne-causing bacteria successfully to provide you a flawless face.
Also read: Best Professional Grade Portable High Frequency Facial Machines
This tool also minimizes the appearance of pores in your face precisely. The mild electrical current from this wand kills the bacteria in your face and empties your pores efficiently to make them look tighter and smaller. 
Moreover, as the high frequency technology exfoliates your skin gently, this tool removes dead skin cells effectively to reveal bright, gorgeous skin underneath.
This amazing technology is also known to boost collagen production greatly. Aflush of collagen reduces the appearance of fine lines and wrinkles and makes your face look younger as ever. 
Now, let's also discuss the benefits of a high frequency tool on your hair.
A high frequency machine can reduce your hair fall actively. As it makes the hair roots stronger and healthier than before, it helps to hold the strands in place securely and keeps them from falling. 
Besides, a high frequency wand also aids in hair regrowth greatly. It not only stimulates the hair follicles effectively to increase the growth of newer strands but also ensures better product penetration [hair growth products and nutrients] so that your hair starts growing back faster than ever.
Also read: High Frequency Machine For Hair and Scalp Treatment
In addition to the hair, this innovative technology also works wonders on the scalp itself. The gentle electric current from this tool stimulates natural oil production on the scalp and helps to reduce annoying dandruff and flaky skin from your head perfectly.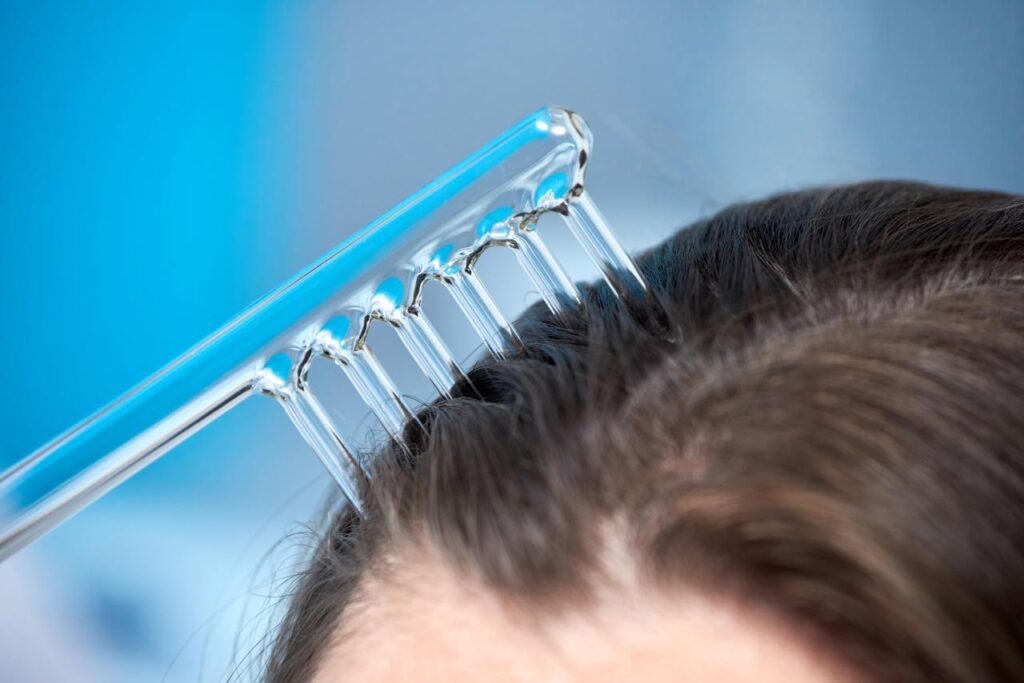 This natural oil also glides down the length of the strands eventually and makes your manes look silky, smooth and healthy- just like you have always wanted.
High Frequency Vs Radio Frequency
Even though both high frequency and radio frequency therapies are used to improve the quality of your skin greatly, they don't work in the same way and are far different from each other. While radio frequency therapy is used exclusively to tighten your sagging skin [both face and body], a high frequency wand treats a range of skin and hair concerns to make them more beautiful and healthier from the inside.
Aside from the concept difference, these two modern skin technologies differ in more ways, and you should know them too for understanding them even better. To begin with, a radio frequency tool uses energy waves to treat your skin whereas a high frequency wand passes gentle electrical current into your face. These energy waves penetrate your skin effectively to heat the dermis layer [the deepest layer of your skin] and stimulate the production of collagen and elastin greatly. An increase in the collagen and elastin in the dermic diminishes fine lines and wrinkles quickly and gives your skin a tighter and younger-looking appearance.
In addition to tightening your skin and giving it a healthier, younger outlook, radio frequency is also used to burn the bad fat in your body for a toned-up physique. As the energy waves heat the dermis layer, the bad fat and cellulite [deep inside your skin] burns quicker than ever to make you slim and sexy.
However, because of such prominent and quick results, a radio frequency therapy is much more costly than a high frequency treatment.
What Does Galvanic Current Do For The Skin
Galvanic Current and high frequency treatments are very similar- they both use gentle electric current to stimulate your skin and enhance its appearance by several degrees. However, while a high frequency treats your face with only the current, a galvanic current is used to infuse water-soluble substances [creams, serums, etc.] in your skin to make it healthier and more radiant than before. This modern facial treatment also reduces dryness and dehydration of your face so that it glows from deep within.
The other benefits of a galvanic current for your skin are;
It helps to penetrate nutrients and other beneficial products deep into the skin.
Softens your face and make it supple.
Improve skin elasticity and tightness. 
Boost blood circulation for a healthier appearance. 
Reduce signs of aging quickly.
Eliminate dark spots like none other.
Make the skin glowy and more radiant.
How Many Electrodes Does A High Frequency Electrotherapy Machine Have
A high frequency electrotherapy machine usually comes with one electrode to do the necessary works. However, in the recent years, with so many skin concerns, manufacturers decide to add more removable electrodes to the wand just to provide the users a variety of choices. A modern high frequency facial machine will come with at least 4 electrodes for your convenience.
Final Words On High Frequency, Its Uses And Benefits
There is no doubt that a high frequency machine is an extremely beneficial one for your skin and hair- it enhances their health and looks of them quickly and precisely. However, as it is an electrical tool that transfers electrical current to your skin, it would be the best to learn more about it before making your purchase. Learning and understanding it better would make the facial sessions safer.