We research, test, and recommend the best products for our respected readers. This post may contain some affiliate links, and we may receive a small commission if you purchase through these links.
When it comes to how to do Brazilian wax at home, it's to each is her own. Every girl out there has her own way of waxing their private parts.
From what wax beads to use to how to sit and from where to start pulling off the hairs, everyone has their own theories.
Also read: Best Brazilian Wax At Home Kits For Soft And Smooth Pubic Region
However, even to try out your own methodology while removing unwanted hairs from the skin, you first need to learn the core steps of waxing at home precisely.
Without knowing the basic steps, getting your hands into at-home waxing won't be a clever decision to make.
A Step-By-Step Guide To Brazilian Wax At Home
Waxing at home is convenient, time-saving, and cost-saving too. But we do not often try it at home because of lack of knowledge and fear of damaging the skin while pulling out the hair.
Even though the fear is legit, when you learn to do it rightly, the experience can be as amazing as ever.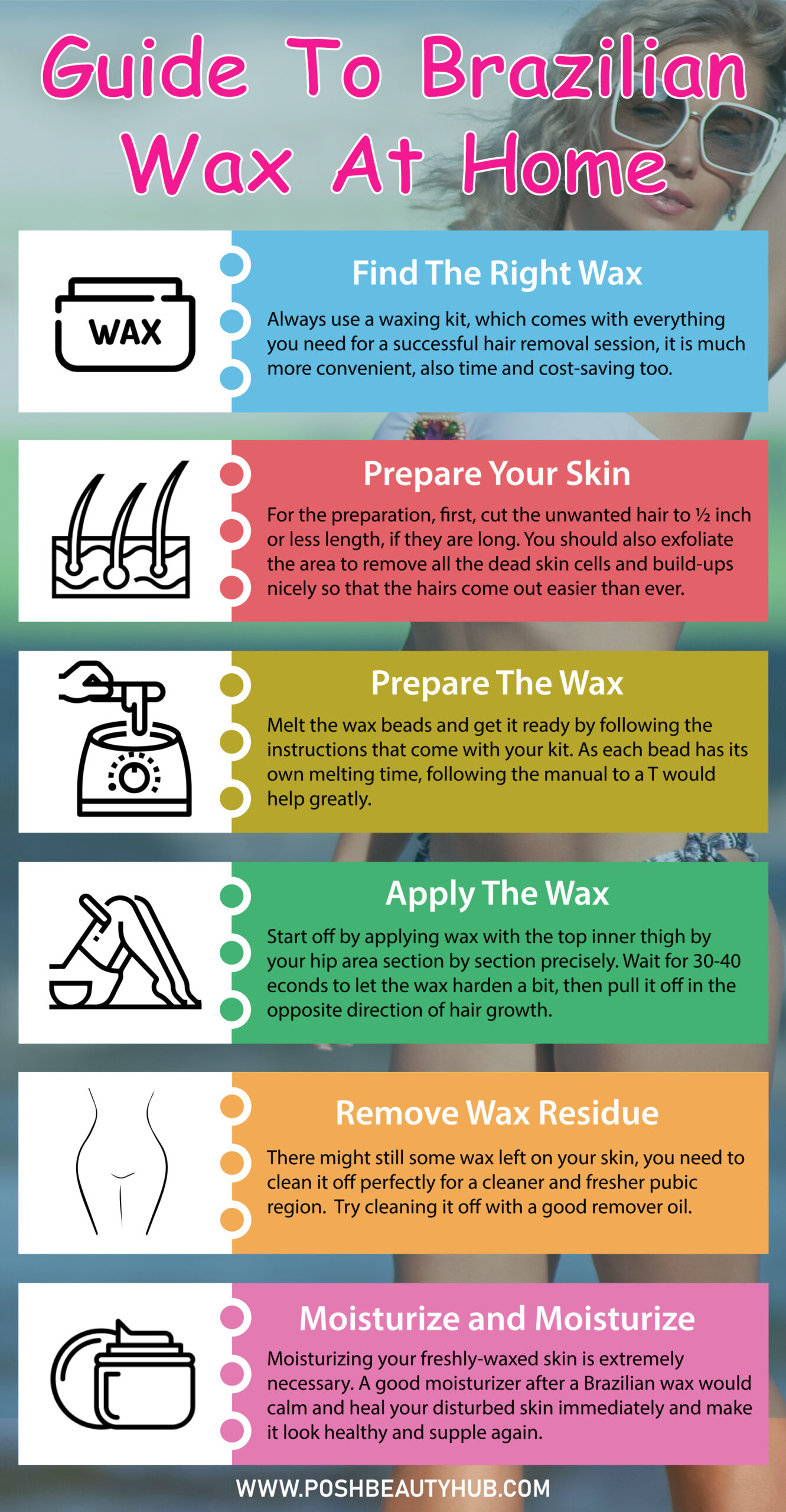 Step 1: Find The Right Wax
Finding the right wax before your waxing session is important.
This is because the right wax can make a whole lot of difference in the way the hair comes out and how your skin feels after the procedure.
And therefore, it is extremely important that you pick just the right kind of wax before getting it done in the comfort of your own space.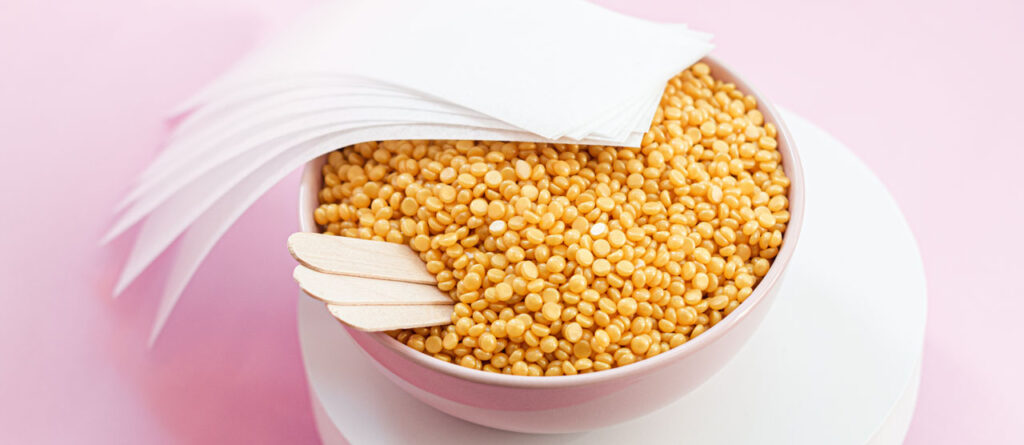 Even though there are many types of at-home wax available in the market, we always suggest getting a waxing kit for obvious reasons.
As an at-home wax kit [such as this KoluaWax Warmer Hair Removal Kit With Hard Wax Beans] comes with everything you need for a successful hair removal session, it is much more convenient and cost-saving too.
It also saves your time greatly.
Step 2: Prepare Your Skin
Be it your bikini area or any other part of your body, skin prep is a crucial step for a Brazilian wax procedure.
It makes the skin ready for hair removal and also eliminates the chances of disturbing ingrown hairs. And even when you are doing it at home, you must never skip this step.
For the preparation, first, cut the unwanted hair to ½ inch or less length, if they are long. It makes waxing much easier with precise results.
You should also exfoliate the area with a suitable sugar scrub [like this Frank Body Shimmer Scrub] to remove all the dead skin cells and build-ups nicely so that the hairs come out easier than ever.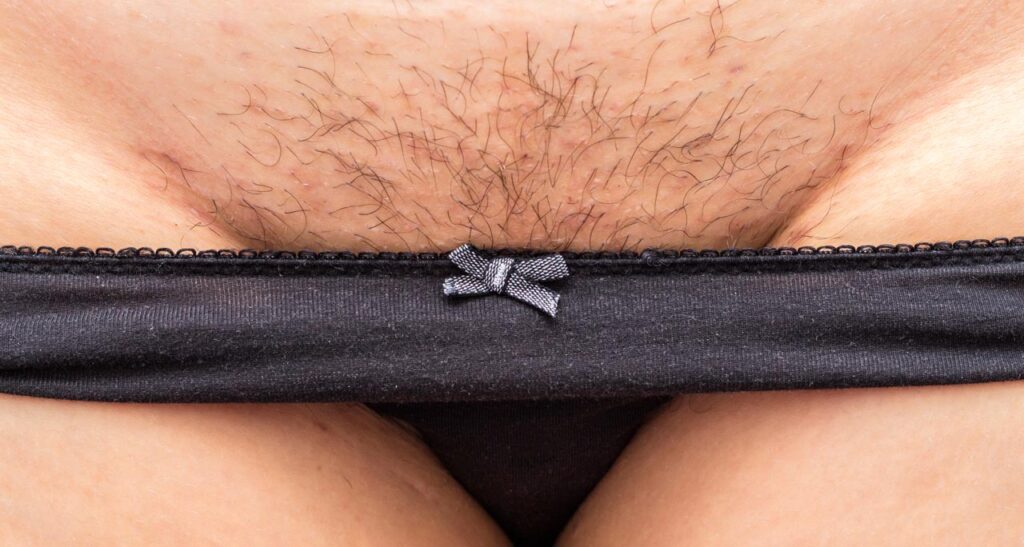 In addition to these prep steps, you can also use the skin preparation items that come with your kit. They too provide extra care to the area. 
Also, if you are sensitive to the pain that the Brazilian wax session is going to cause, don't forget to use a numbing cream to ease the excruciating pain by several degrees. 
Step 3: Prepare The Wax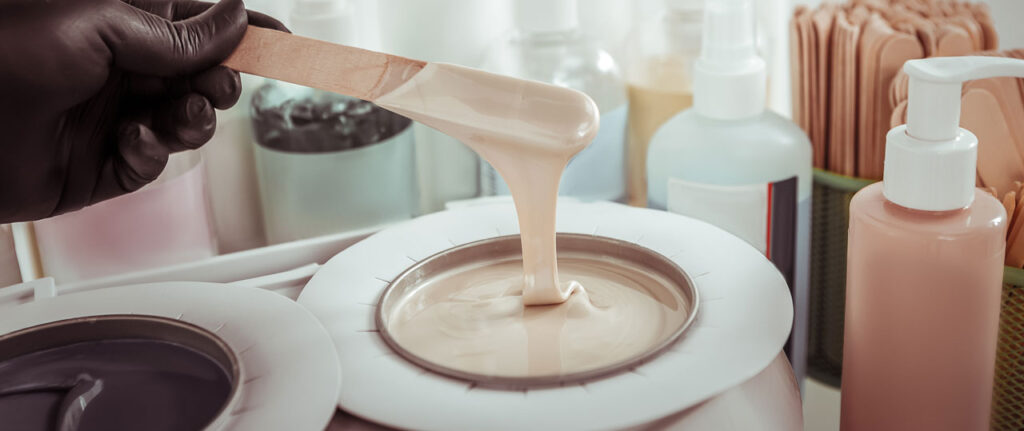 After your skin is ready for the hair removal procedure, melt the wax beads and get it ready too.
For the melting process, follow the instructions that come with your kit. As each bead has its own melting time, following the manual to a T would help greatly.
Step 4: Apply The Wax
Now that everything is ready, apply the wax down precisely for the actual hair removal process. 
Use a mirror to smear it consistently. Make sure to work in sections rather than waxing the whole area at once. Start off with the top inner thigh by your hip area because it has thinner hair comparatively and therefore, would be quicker to clean.
After applying the wax, wait for 30-40 seconds and let the wax harden a bit. Then, pull it off in the opposite direction of hair growth to see all your unwanted hair come out of the skin surface immediately.
If any hair is left on the spot, apply the wax again and pull it out the same way for a cleaner surface.
Repeat the process until all the unwanted hairs are removed and you have a completely bare bikini area. You can watch the above YouTube video to see how easily a lady doing her Brazilian at home.
Step 5: Remove Wax Residue
Even when you pull out all the hair and melted wax from your skin, there might still be some product left on your skin. And you need to clean it off perfectly for a cleaner and fresher pubic region.
Most wax available in the market is water-soluble and can be washed away with just water and mild soap.
However, if you are stuck with a stubborn one, try cleaning it off with a good remover oil [such as this Satin Smooth Satin Release Wax Residue Remover Oil].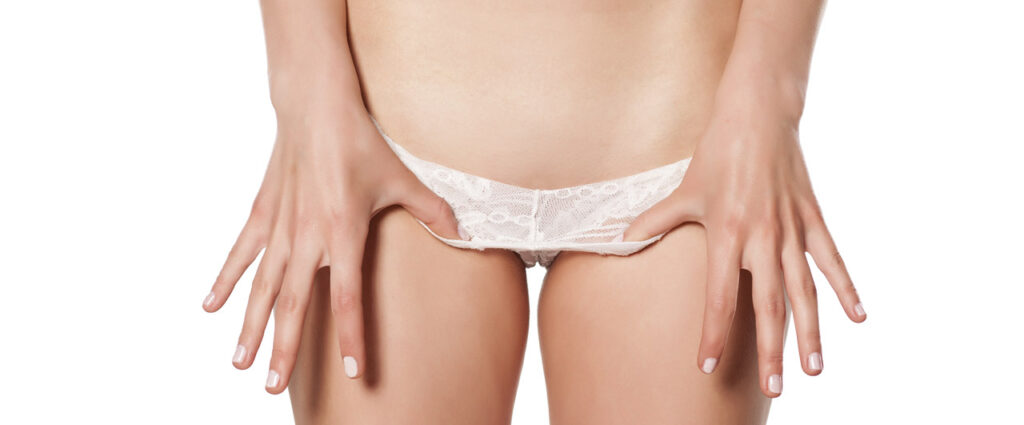 Step 6: Moisturize, Moisturize And Moisturize
Even though it's not a part of your actual waxing procedure, moisturizing your freshly-waxed skin is extremely necessary.
A good moisturizer after a Brazilian wax [like this AmLactin Rapid Relief Restoring Lotion] would calm and heal your disturbed skin immediately and make it look healthy and supple again.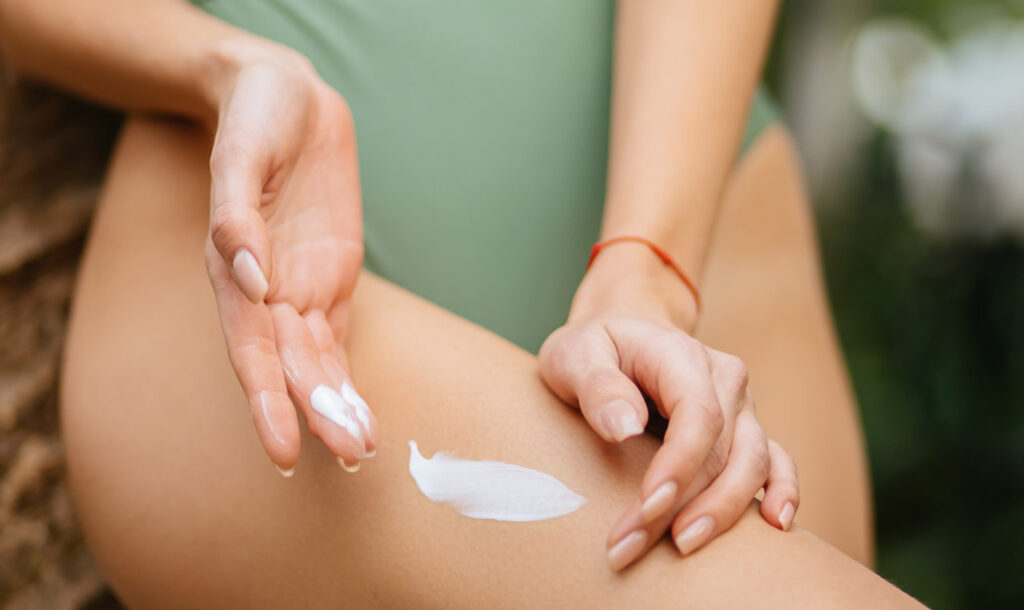 Don't forget the nourishing step. 
How Do You Maintain A Brazilian Wax?
Getting a Brazilian wax at home doesn't guarantee beautiful skin- always remember that.
After you are done getting rid of all those unwanted hairs, don't forget to take the right care of the region to ensure flawless skin all day, every day. Exfoliate the bikini line with a mild scrub at least 3 times per week to avoid ingrown hairs and maintain the glow.
Also read: Exfoliating After Brazilian Wax
Nourishing the skin after the waxing session is not the end of your duty.
You must always hydrate it with a suitable moisturizer to keep the area healthy, soft, and smooth.
Concluding The Guide To Brazilian Wax At Home
When you know the procedure right, getting a Brazilian wax at home feels as easy as ever.
However, before sitting there and preparing yourself for the hair removal session, make sure that you don't use any alcoholic pads or products on your skin to sterilize it.
Even though these products wipe off any bacteria buildup from the place, they will over-dry your skin and make waxing even more painful.