We research, test, and recommend the best products for our respected readers. This post may contain some affiliate links, and we may receive a small commission if you purchase through these links.
Sandra has heard about the magical benefits of DIY sugar scrubs on the bikini line. They are safe, non-toxic, and eco-friendly. Sugar scrubs are inexpensive too.
However, as she has never used this exfoliator in her private parts, she is skeptical about using it. From what type of sugar scrub she should actually use to how to make it, Sandra's concerns are endless.
Let's help her and you with different types of homemade sugar scrub for the bikini area so that you too can enjoy its endless advantages.
Also read: Best Exfoliator For Bikini Area To Try Right Now
Top 3 DIY Sugar Scrub For Bikini Area
Sugar is an excellent exfoliant for your bikini area. It removes the dead skin cells effectively while rejuvenating the skin to make it look as fresh and healthy as ever.
Let's learn how to make some of the best homemade sugar scrubs for the pubic area so that you get a healthy, smooth and sexy pubic area without even vising the spa.
1. Best For Moisturizing: Coconut Oil Sugar Scrub

If you are suffering from a dry, prickly bikini area, a coconut oil sugar scrub would be the right one to include in your regular care routine.
This is because coconut oil is extremely nourishing and moisturizes your delicate pubic skin precisely.
While the sugar removes itchy dead skin cells from the surface, the coconut oil [try this Viva Naturals-Organic Extra Virgin Coconut Oil] present in this exfoliator reaches deep inside and hydrates from within to make your genitals look healthy and attractive again.
Also, as coconut oil has antibacterial and anti-inflammatory properties, it keeps irritation and inflammation at bay from your pubic region.
To make this sugar scrub for the bikini area,
You Would Need
Granulated White/Brown Sugar: 4tbs.
Coconut Oil: 1 tbs.
Essential Oil of Your Choice [Optional]: 10-12 Drops
How To Make
Making this homemade sugar scrub for the bikini area is as easy as it can get.
Mix all the ingredients in a mixing bowl perfectly and let it sit for a few minutes. As the coconut oil and sugar don't combine immediately, it will take a bit of time to form a thick paste.
When both these components are blended together, you can use the mixture to exfoliate your private parts safely. 
Pro-Tip
Use room temperature coconut oil. It is easier to blend with granulated sugar.
2. Best For Skin Soothing: Turmeric Sugar Scrub

Turmeric [such as this Organic Turmeric Root Powder] is widely known for its healing and antibacterial properties.
When you use a DIY sugar turmeric scrub on your gentle private parts, it not only heals the skin actively to give it a healthier, soothing feel but also keeps away any additional bacteria attack at arm's length.
In addition to keeping your genitals clean, fresh, and healthy, a turmeric sugar scrub also brightens the area and ups your confidence significantly.
To make this sugar scrub for the bikini area,
You Would Need
Granulated White Sugar: 1 cup
Grounded Turmeric Powder: 2 tbs.
Sweet Almond Oil: ¼ cup
Essential Oil of Your Choice [Optional]: 10-12 Drops
How To Make
To make this DIY sugar scrub for your bikini area, first, take a mixing bowl and pour all the ingredients in it.
Make sure to stir them well so that all the ingredients are combined together to make a perfect bikini area scrub.
Apply this exfoliator on wet skin to enjoy the maximum results.
Pro-Tip
Even if the formula has oil in it, the turmeric might still leave a stain on your precious genital skin. If this happens, wash the place with soap and water to remove the markings perfectly.
3. Best For Acne And Rashes: Coffee Sugar Scrub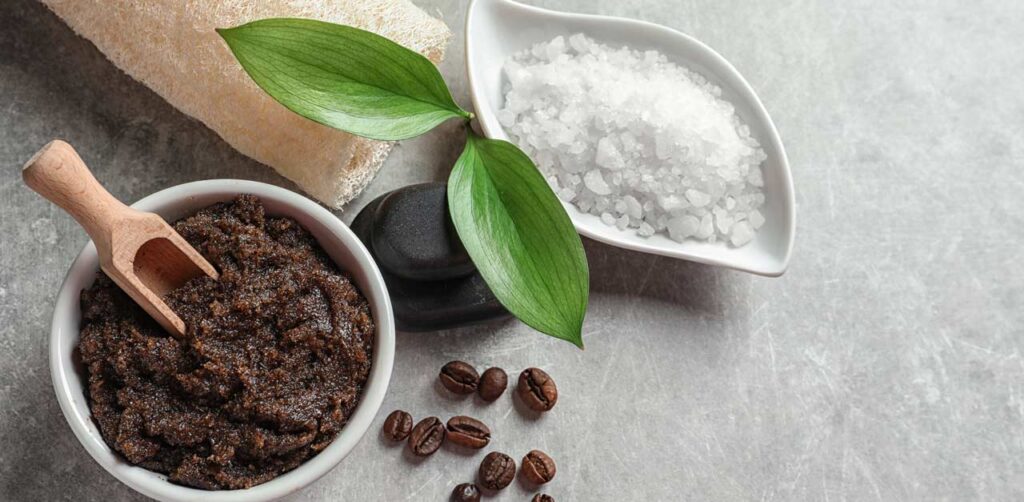 Even though your private parts are hidden under tons of clothing, you still might desire a healthy, fresh bikini line.
And to fulfill your desires, don't forget to include a DIY coffee sugar scrub in your beauty routine.
The high amount of CGAs [chlorogenic acid] present in coffee can successfully fight any inflammation and infection in your pubic area and make it as smooth and fresh as ever.
As CGA has both anti-inflammatory and antibacterial properties, this acid can combat the influence of acne and rash-causing bacteria and keep your private area clean and clear.
Besides fighting acne and itchiness, coffee [such as this Starbucks Medium Roast Ground Coffee] also improves the blood circulation in your pubic region and keeps it as healthy as ever.
To make this sugar scrub for the bikini area,
You Would Need
Grounded Coffee: 1 cup
Granulated White Sugar: 1/2 cup
Almond Oil: 1/4 cup
Vitamin E oil: 1/4 tsp
How To Make
Measure all the ingredients precisely and put them in a bowl. Combine all of them together to make sure that they are mixed well with one another.
When the mixture turns sticky and gooey, it is ready for your exfoliation. Take a generous amount of this scrub and apply it to your wet pubic region to see excellent results for yourself.
Pro-Tip
Grounded coffee also acts as a skin scrub. Therefore, use this product gently on the skin to minimize the chances of over-exfoliating your sensitive bikini area.
Benefits Of Sugar Scrub For Bikini Area
The benefits of sugar scrub for your pubic area are endless. From removing dead skin cells to making the region spotless, the advantages you would enjoy from a DIY sugar scrub are countless.
Let's talk about a few of these benefits so that you know why you should include a sugar scrub in your routine right now.
It's natural. There are zero chances that sugar will harm or hurt your delicate pubic skin in any shape or form.
Unlike other exfoliators, a DIY sugar scrub is gentle and melts on your skin subsequently. It is good for the complexion.
As sugar scrub gently unclogs the pores in your bikini line, it helps to prevent prickly ingrown hairs successfully so that there is no irritation or itchiness in your delicate skin.
Compared to the exfoliators for the bikini area, DIY sugar scrubs are extremely inexpensive and won't cost you more than a few dollars.
Also read: How To Get A Smooth Pubic Area All Year Around
Final Words On Homemade Sugar Scrub For Bikini Area
DIY sugar scrubs are safe and affordable exfoliating options for your pubic area.
As there are no chemicals involved in making these homemade scrubs, they will never result in any adverse reactions or cause irritation or inflammation in your super sensitive private area.
So, without worrying much, try these exfoliators and thank us later.