Getting waxed down there isn't always a luxury; sometimes, it is necessary. Brazilian wax is healthy and rarely has side effects if it is done right.
It allows you to get a clean and smooth bikini zone and reduces the trouble of trimming every two days as it can be pretty long-lasting too.
What Is A Brazilian Wax?
Invented by Janea Padilha, Brazilian waxing gained international popularity in 1987 when the J sisters opened a salon in Manhattan, New York, thus spreading the idea of this beneficial waxing method.
Bikini waxing includes removing hair from the bikini area (the region where the hair might poke out from, such as the sides of the bikini line or the region between the belly button and the pubic bone).
As opposed to that, Brazilian waxing removes all the hair from that region and will also let you leave a landing strip of hair if you wish to do so.
Another kind of waxing done in many parts of the world, but typically in America, is something called a Hollywood Wax.
Unlike a Brazilian wax session which gives you the option to go for a full-pubic area waxing or simply just the front, a Hollywood wax session is generally removal of all the hair in the nether region.
While both are equally beneficial and show results that stay the same way for approximately six weeks or so, a Brazilian wax is far more versatile as it gives you more command and is also less painful than the full-throttle Hollywood wax.

Benefits Of Brazilian Wax
When it comes to removing those unwanted hairs from your precious bikini area, almost nothing can beat the results of a good Brazilian Wax [except for permanent methods like laser and IPL therapies].
This amazing yet painful hair removal method gained instant popularity among women of all ages because of obvious reasons. It makes you feel sexy without the use of any harsh chemicals or cuts and burns.
However, this is not the only reason the female clan loves this bikini line hair removal method.
There's more to it. Let's discuss some of the most prominent benefits of Brazilian wax so that you love it as much as others do.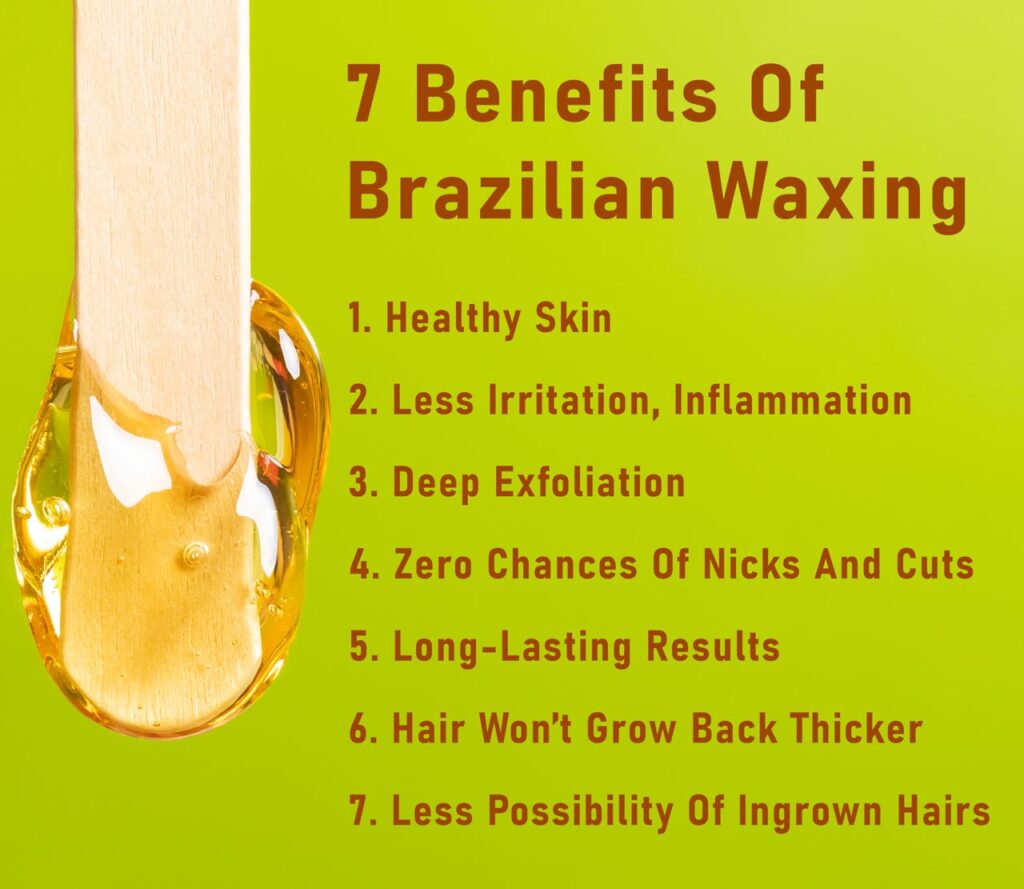 1. Healthy Skin
Brazilian wax not only removes your unwanted hair, but this process removes the dead skin cells at the same time that reside on your skin.
Also, it rejuvenates your skin by boosting collagen production, thus hydrating and strengthening it.
2. Less Irritation Or Inflammation
Brazilian waxing causes minor irritation or inflammation if the process is done by a professional compared to the other forms of hair removal such as cream or epilator, which have been said to cause skin irritation for some people.
Irritation and inflammation in the private parts can be a killer, and it probably has to be the most uncomfortable experience for a woman.
3. Deep Exfoliation
Even though the main benefit of a Brazilian wax is to remove all those unwanted hairs from your private area, the benefit of this air removal method doesn't end here.
This amazing hair removal procedure also actively exfoliates your skin and removes all the dead skin cells from your pubic parts precisely to make this region looks softer and smoother than before.
The wax peels away all the dead skin cells from the outermost layer of skin revealing newer, fresher ones from underneath. The newer skin feels silkier and brighter with an enhanced tone.
However, remember that waxing is not your regular exfoliation. You must exfoliate your bikini line a few days before and a few days after the waxing session to main the look and health of your precious skin.
Also read: Exfoliating After Brazilian Wax
4. Zero Chances Of Nicks And Cuts
One of the main reasons women love a good Brazilian wax is that it is extremely safe. Even though this waxing procedure might feel a bit painful to some, it is considered one of the safest hair removal procedures around for valid reasons.
Unlike saving, it won't result in any cuts, nicks, or other types of accidents.
You can finis remove all those unwanted air strands without hurting or damaging your precious private parts.   
5. Long-Lasting Results
Unlike shaving, which only gets rid of the hair from the surface, Brazilian waxing, and any form of waxing for that matter, causes your hair to be removed from the roots and damages the hair follicles so that they take time to grow back to their previous form.
As they require time to reappear, Brazilian wax ensures longer-lasting results than many other hair removal techniques out there, and you get to enjoy a longer time without having to worry about unwanted hair.
6. Hair Won't Grow Back Thicker And Darker
Waxing not only exfoliates and removes hair but consistently doing this process causes your hair to grow back finer, thinner, and softer and make the place look unappealing.
You will start to see the results within a couple of Brazilian waxing experiences.
As this hair removal method pulls the strands from deep inside, it makes the hair follicles weaker than ever before.
And when the follicles are super weak, they produce finer and sparser hair that doesn't look or feel bad.
7. Less Possibility Of Ingrown Hairs
Let's face it. At one point in time or the otter, you have experienced ingrown hairs [hair that regrows back into the skin rather than coming out] in your genital area, and know-how disturbing and annoying it can be.
However, if you try a good Brazilian wax, the chances of ingrown hair are very low. And you wouldn't have to face such an annoying and painful situation.
During this waxing procedure, you have to hold the skin tightly and pull the wax quickly, the hair strands come out from the roots without leaving any portion inside. This reduces the chances of experiencing ingrown hairs greatly.
Also read: The 7 Best Moisturizer After Brazilian Wax in 2021
Final Words On Brazilian Wax Benefits
Even though many girls might get cold feet to get Brazilian wax thinking about the pain, we can assure you that the experience will improve over time.
If you are consistent with your waxing routine, the pain will decrease gradually, and you can enjoy its benefits fully. So, don't hesitate.
Try this amazing hair removal method right now, and say bye-bye to those unsightly, annoying hairs for the good.