We research, test, and recommend the best products for our respected readers. This post may contain some affiliate links, and we may receive a small commission if you purchase through these links.
When it comes to caring for your skin post a Brazilian wax session, using coconut oil should be at the upper side of the list, and for valid reasons.
This amazing oil pampers your disturbed skin from deep inside to make it as beautiful as ever.
However, this is not the only reason we love coconut oil as an "aftercare" for Brazilian wax.
There are several other reasons that make it one of the best for your freshly-waxed skin. Let's find out.
Benefits Of Coconut Oil After Brazilian Wax
Coconut oil soothes the waxed skin actively to heal it in no time. As this natural oil is the only oil that does not trap heat in the skin, it will calm it down promptly and help in the healing process after the waxing session.
This oil has naturally occurring anti-bacterial and anti-fungal properties, and hence, prevents irritation, inflammation, and redness in the waxed skin effectively. 
As coconut oil is rich in fatty acids and other nourishing ingredients, it moisturizes the skin efficiently to make your skin would look fresh and radiant, even after a painful waxing procedure.
Another extraordinary benefit of organic coconut oil for your waxed skin is that it helps to restore the skin's natural PH level to maintain its health and good looks.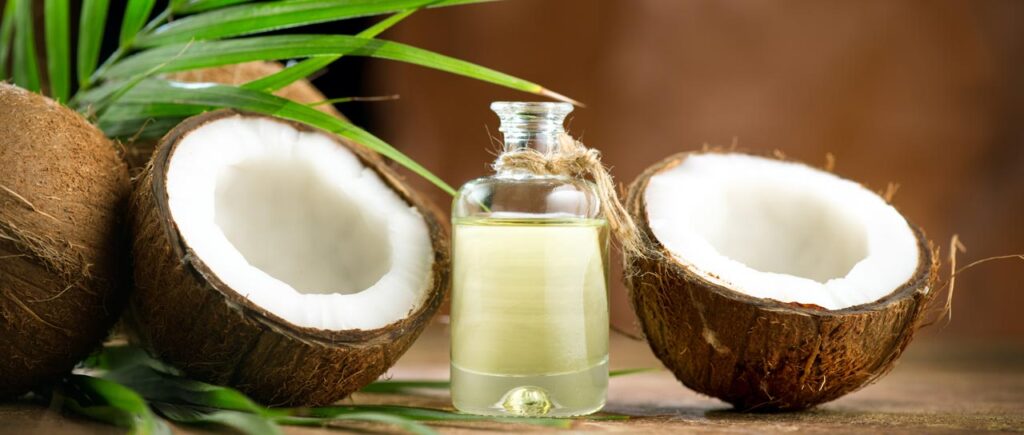 Learn To Use Coconut Oil After Brazilian Wax
How you will use coconut oil as a "post-wax" skincare depends greatly on the "form" of the product you are using.
If the oil comes in a creamy form, first, you need to warm it up a bit for easy application. Take a small amount of oil in-between your palms and rub it for a few seconds to liquefy it.
Liquid oil gets absorbed in the skin quicker than the other forms.
And for the liquid oils, just take the required amount of oil in your palm and massage it gently on the skin to enjoy the maximum outcome. 
Now you might ask when is the best time to put on the coconut oil on your waxed skin. Well, for the most soothing and healing effect, it's always recommended to use it right after the wax session.
As your skin is the most disturbed immediately after you pulled out the unwanted hairs, this oil will work wonders for it. 
When it comes to how frequently you should use coconut oil after a Brazilian wax, it all depends on your needs.
For instance, if your aim is just to calm and soothe your skin after a painful waxing procedure, use it twice a day for 2-3 days consecutively. 
But when you want to enjoy its nourishing benefits too, apply the oil 2 twice daily to make the skin smooth, supple, and radiant. 
However, before applying the oil, make sure to remove every bit of wax using a wax remover oil.
A cleaner surface makes it much easier for the oil to penetrate deep into your skin and do its magic.
Reviews Of Best Coconut Oil To Use After Brazilian Wax
Coconut oil has a number of benefits. It not only takes care of your health but also has a number of benefits for your skin and hair as well, one of which is healing and soothing your skin effectively after a Brazilian wax procedure.
As this natural oil is rich in vitamins, minerals, and other nutrients, it can calm the inflammation and uncomfortableness in your skin as quickly as possible [after the waxing] and rejuvenate it for a brighter, more beautiful outlook. 
Enriched with Vitamin A, C, and E, and proven antioxidants, this extra virgin coconut oil from NATUREWELL makes your sensitive pubic region visually softer, smoother, and more supple.
It provides immense hydration to your skin after a painful Brazilian wax session to ensure comfort as well as a healthy and sexy outlook.
This organic, 100% natural coconut oil promises to provide deep hydration to your skin after a Brazilian wax to heal it from deep within.
It also soothes and calms the waxed area precisely so that you have relaxed, fresh skin after each hair removal session.
You ask for hydration after an excruciating wax session, you get it from this liquid coconut oil from NOW. This organic, extra virgin oil is extremely lightweight and gets absorbed in the skin in no time.
As quickly as it penetrates, it starts nourishing the skin from the inside and makes it look radiant like never before.
Final Words On Coconut Oil After Brazilian Wax
Coconut oil can calm and heal your skin after a Brazilian wax- there I no doubt in that. However, before picking up one for your precious skin, make sure that it is labeled as "extra virgin".
This is because the natural goodness of coconut oil remains intact in the "extra virgin" ones and therefore, does more good to the skin than otherwise.